Streamlined Access to Regulatory Information and Services with an Enhanced User Experience
We are excited to welcome you to TSSA's new website! Our new site has been carefully designed to provide you – our regulated industry customers and members of the public with an easy and efficient way to access the information, resources and services you're looking for and a better overall user experience.
We would like to thank all of our stakeholders who have provided valuable feedback throughout various stages of our website journey. Your input has helped to guide the new site structure, navigation, design and content strategy, resulting what we hope you will find is a more engaging, user-focused site.
A responsive menu that displays site sections effectively on larger screens and mobile devices
A document library to search for regulatory documents by keyword and filter by document type and industry
Robust site search with filters
Dashboard landing pages that highlight important, new or updated content for each of TSSA's regulated industries
Improved wayfinding through consistency in naming and labels
Helpful FAQs for specific topics or programs
Clear information about TSSA's regulatory scope
A new section, Consumer Safety, created for the members of the public
Simplification of the newsroom, subscription to pages, and newsletter
As you navigate TSSA's new website at www.tssa.org, you'll find a range of features designed to elevate your browsing experience:
Mastering the new TSSA Website: Your Step-by-Step Guide
We've created a short video that will guide you through our new site and help you make the most of its new features.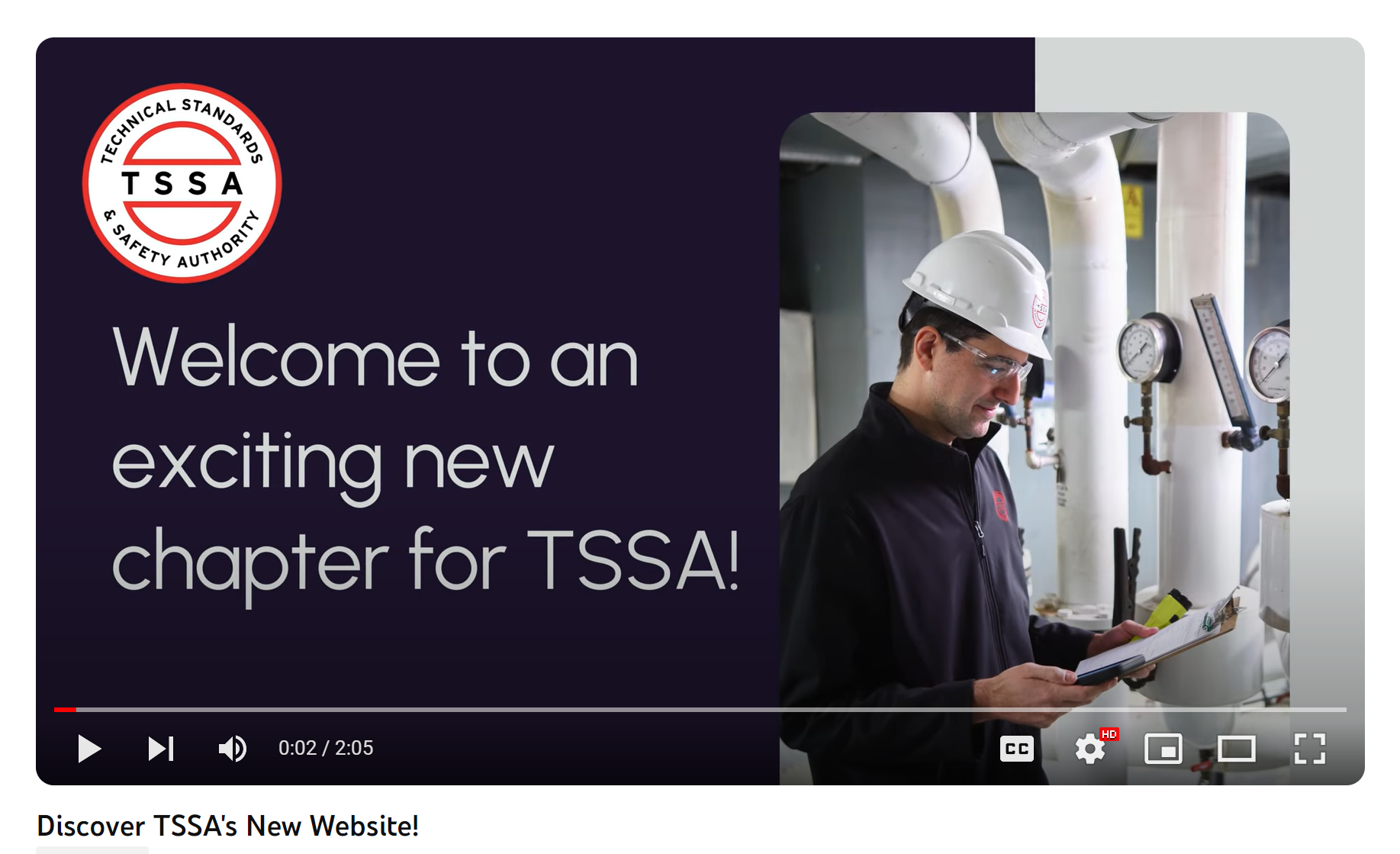 Watch the video and start exploring our website today!
We recognize it's a big site with a lot of content. Inevitably, you'll come across things that don't look right, especially in these early days post-launch. We'll be spending the next few weeks addressing issues and we appreciate your assistance in reaching out to us at media@tssa.org if you come across anything that needs fixing.
Help Us Continue to Improve Your Experience: Your Feedback Matters
We are grateful for any feedback you might have regarding our new website and you can send your comments to media@tssa.org.